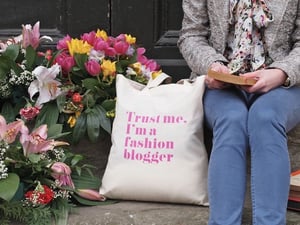 £

8.00
100% unbleached and ethically sourced cotton tote with "Trust me, I'm a fashion blogger" design for all you lovely fashion bloggers out there!
More images available here: http://www.takecourageblog.com/2012/04/trust-me-im-fashion-blogger.html
Screenprinted by hand. Tote features a twill weave and measures 34cm wide by 40cm tall with 70cm straps. A nice, sturdy tote, perfect for all your essentials.
Handwash in cold water. Tote can be ironed; we recommend placing a piece of cotton or linen fabric over the lettering when ironing the front.
Postage to the UK included in the price. If you are from outside the UK, drop us a message - the price can be adjusted to match the increased postage cost.